About Bitsbeat
Bitsbeat is a passionate team of dynamic and research driven young professionals with a profound vision of transforming lives of millions around the globe through digital empowerment. We develop solutions backed by rigorous research and innovation that only  solve the real world problems but also empower people from every corner of the world.
Guided by years of experience and innovation, we offer IT solutions with the right blend of creativity, passion and innovation designed to help our clients meet the challenges they face every day — regardless of the industry they function in.
Established in 2015, we have quickly expanded our operations globally and served customers  from the USA, United Kingdom, Canada, Nepal and many more. We have built a self-driven team capable of delivering 24×7 project management and building innovative and ground-breaking  solutions for our clients. At Bitsbeat, our team doesn't work on the cutting edge - we define it. Our reputation for excellence and delivery is a direct reflection of our team.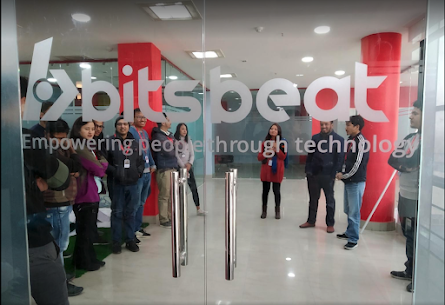 Our
story
2015
IDEATION OF BITSBEAT
The three close friends-turned colleagues' passion towards technology gave birth to Bitsbeat.
BITSBEAT INTRODUCED THE IDEA (IDEATION OF BITSBEAT)
The idea of initiating Bitsbeat was instantly born as we envisioned developing solutions to simplify lives, empower people and contribute to the global economy by capitalizing emerging technologies.
COMPANY OFFICIALLY REGISTERED
Our dedication, passion and hard work backed by risk-sharing ability led to the formation of a legal company.
MORE CONCERNED ON SERVING AND GIVING BACK
We have always been concerned more about serving and giving back to the technology rather than business and profit-making.
FIRST PHASE
We have turned Bitsbeat into a vibrant team of 25 plus like-minded professionals who share a common vision of helping global citizens and countries solve their problems with new and cost effective technologies.
BITSBEAT'S GROUNDBREAKING PRODUCT FEASIBILITY STUDY
We have not only managed to develop our flagship products such as Nodebeats and blockstuffs but also established strategic partnerships with prominent individuals and companies from around the world that share the common vision. Within a short period of time Bitsbeat has acquired world-class expertise in new technologies.
ONGOING EFFORTS AND PERSEVERANCE
Through our hard work, persistent efforts and perseverance we have been able to garner trust and support from around the world. We are now in a position to collaborate with global companies and create an alliance to work on emerging technologies.
2022
DO YOU
HAVE A GREAT
IDEA

?
WE CAN MAKE IT
A

REALITY