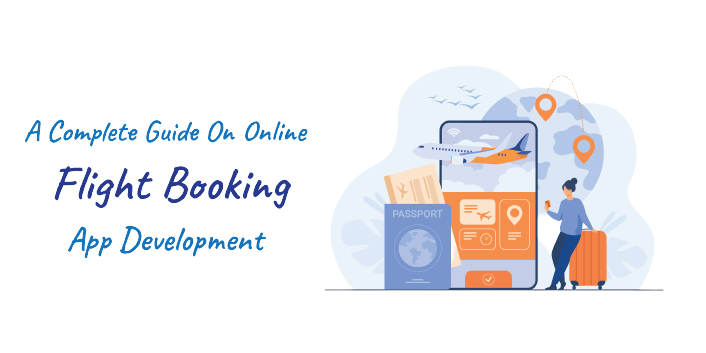 Introduction
Customer expectations in the travel industry have shifted dramatically over the last few years. As a result, an online ticket booking application has been a popular travel partner for customers throughout the world. The Online Flight Ticket Booking is a one-stop platform that allows users to find all major Air Ticketing companies in one location. This application can combine some of the most popular online flight ticket booking applications and software into a single interface.
Such a demand for digitalization increased the demand for robust smartphone applications, making everything more accessible than ever before. It has become so convenient for customers that it has made traveling all over the world an easy and enjoyable way to manage everything. The demand for a flight booking app has increased dramatically to improve the customer experience. It becomes a must-have feature for any airline owner looking to retain customers.
Flight Booking Apps will undoubtedly give your company a competitive advantage, and these apps are now going above and beyond to provide users with a one-of-a-kind flight booking experience. Air ticket booking has increased by approximately 80% as a result of flight booking apps.
Scope and benefits of having a flight booking app
Since its inception in the twenty-first century, the internet has served as the foundation of all businesses. Similarly, the airline industry has become completely dependent on the internet and Flight Reservation systems. A flight reservation system's primary advantage is that it can be used by any size airline company, whether small, medium, or large. It primarily serves as a website where travelers can book their airline tickets online. Some benefits are listed below:
Your company is open 24 hours a day, seven days a week.
Customers who book a tour or rental don't want to wait until you're in the office; they want to book the activity on their own time. When you use an online booking system, your business is open 24 hours a day, seven days a week.
You can make the most of your reservations.
Customers who book their reservations are more likely to show up, effectively eliminating no-shows. If a customer must cancel, the spot automatically becomes available online for another customer to book. You won't leave unused activity spots or rentals on the table if you maximize your reservations.
You get paid faster.
Customers can be required to prepay for activities and rentals using an online booking system. This allows you to put money in your pocket more quickly.
Customers can be required to prepay for activities and rentals using an online booking system. This gets money into your pocket faster and ensures that you don't have to worry about payment on the day of the event, giving you and your customers more time to enjoy themselves.
You are not tethered to your phone.
If a customer calls a tour or activity company and is directed to voicemail, they can call back later — or they can call their backup option. Because reservations and information are always available online, you can capture more potential business. It also means you won't get sucked into the dreaded game of telephone tag.
You can easily upsell add-ons.
To expand your business, you can always hire more guides, offer more activities, or work longer hours. You can easily increase revenue for your business by providing additional benefits to your customers. You can include options for fun extras like photo packages or memorabilia.
It is simple to keep track of your calendar.
Online booking systems allow you to check your reservations and availability from any mobile device, wherever you are. You are always aware of the status of your company, and your schedule can be easily managed from a central location.
You learn a lot about your business.
An online booking system provides a dashboard of analytics to assist you in growing your business. Using an online booking system with robust insights, you can quickly determine your most popular sellers, the most requested time slots, or even the most popular add-ons. Use your knowledge of what your customers want to save time and money on offerings that don't help you.
Market segmentation and buyer personas
According to the Phocuswright Mobile Travel Landscape 2016 study, travelers were more likely to use a mobile device for choosing a destination, comparing or selecting a travel product, or sharing trip experiences on social networks than for making a travel purchase. However, travelers were more likely to use apps to search for tickets or check the arrival time of a flight than to make a purchase.Such findings are consistent with larger studies on the use of mobile apps in the travel industry.
According to the Consumer Trends survey, 65 percent of those who had used airline smartphone apps in the previous year did so to track flight on-time status, 61 percent to check flight availability and pricing, 53 percent to book flights, and 28 percent to access airplane WiFi. According to the Consumer Trends study, travelers who used airline apps in the previous year were generally satisfied with them. Nonetheless, airlines, like other segments of the travel industry, have been chastised for being slow to adapt to the mobile age.
Business models based on the online flight booking apps
Following that, there are two business models that we can generally associate with a flight booking app. Let's take a look at them:
Model of Aggregator
Such a booking app model is well-known; in fact, it governs many of the market's major booking apps. The app, according to this model, contains a comprehensive list of airlines with various specialties, categories, and prices. In addition, distinct payment gateways and booking platforms have been added to the app. After selecting a flight, the user is redirected to the appropriate platform where payment is made.
Dedicated Design
This model is popular among the world's leading airlines. Airlines use their apps to connect with their customers and allow them to book flights directly from their phones. Almost every airline now boasts about their flight booking apps.
Basic module and features of a flight booking app
To set your flight booking app apart from the crowd, make sure to include all of the necessary features in your app. So, if you haven't decided what features you'll need to make your airline tickets app a success, take a look at some of the features that must be integrated into your flight booking apps.
User Interface-The first and most important thing to remember is to provide an excellent user interface. A well-designed and appealing app or website can easily attract users or engage targeted audiences. Spend your time thinking about and creating an interactive user interface that can easily attract and retain users for a longer period.
Components-When a user clicks on a field, the background of the corresponding component should be used to draw the user's attention. This component highlight feature is simply an attempt to reduce clutter.
Date Flexibility- Users can easily select the flight availability on their planned days. The ability to choose a date before searching for flights would make it easier for a user to make travel decisions.
No Redirecting- Do not redirect the user to a new page while the new results are being loaded. Instead, place new search results below the page so that users can scroll and see all of the results at once. However, because app space is significantly less than webspace, redirecting search results to new pages is only possible in online flight booking web.
Filters: The appropriate filtration facility should be available on both the web and the app. More research should be conducted to determine the benefits and drawbacks of hiding these filters.
Real-Time Availability of Flight Tickets: Providing a real-time flight ticket is a difficult task for anyone. However, to help customers and grow your business, you must make this happen. This, however, can be done by all travel agents while receiving data from GDS and then distributing it to other major players in the industry.
Search/Filter: Based on previous searches, the other essential app features help users find other convenient deals that meet their needs and budgets. Aside from that, users can be presented with a list of suggestions at regular intervals to capture their attention and provide them with the best deal offers. For their applied searches, the User can also use a filtering feature. The filter includes parameters such as location, date, price, journey type, and other pertinent requirements.
IATA Code: It is commonly used for location identifiers. The International Air Transport Association defines the IATA station code (IATA). The IATA Code was provided by a third party; if not, you will need to integrate another API for it.
Ticket Confirmation: Every customer is used to being concerned about their ticket confirmation when purchasing a ticket. It is because they are purchasing their ticket through a third-party portal. The user examines all of the details and searches on your portal and then is redirected to the actual site to make the payment for the online flight booking ticket. But the question remains: how did they know the exact flight status?
Flight Ticket Cancellation: Managing online flight booking cancellation is a difficult task for anyone. If you offer online flight booking cancellation, you may find yourself in hot water. You may receive a large number of booking cancellation requests from customers, which can be a difficult task to manage.
Chatbot Texting: As the owner of an air ticket booking app, you will be unable to solve queries or assist the User via calls and messages. AI-enabled chatbots will be an excellent option for your airline tickets apps to avoid such a time-consuming task. Aside from that, users can use this chatbot to check their flight status and ask other questions.
Offers and Coupon Management: The foundation of Offers, Discounts, and Coupons are solely dependent on the company. It is not a big deal if the actual flight booking site provides deals and offers. However, if the travel company provides the offers and discounts, it becomes a little more difficult to manage because the offer prices are borne by the travel company itself.
Support and assistance: It is always an issue with most companies that do not provide quality services to their customers. The customer could be anyone, whether he or she is a regular or new user. The support team should respond to them regardless of the nature of their inquiry. If a user submits a support ticket, the team must acknowledge the request immediately rather than keeping the user waiting for a response because everyone expects a timely response. Nobody has the luxury of waiting for an extended period. It causes the user to switch apps because there are numerous apps on the market that provide the same services.
Feedback: User feedback and reviews will always aid in the improvement of your flight booking apps. It is not only a useful feature for your app, but it also assists new users. When a new user completes his Flight Booking and Payment, simply ask him to rate your flight apps and provide valuable feedback via the small pop-up screen. If the user is not overly busy and genuinely enjoys using the app, they will undoubtedly rate it highly and provide positive feedback.
Conclusion
Flight Booking App Development is a new trend that is spreading like wildfire throughout the world. Everyone who used to enjoy naps or taking breaks from life now prefers to travel instead of resting at home. As a result, flight booking development has emerged as a new segment for rapidly increasing business revenues, visibility, and brand value. If you want to enter the market and monetize the current trends that travelers are following, you've come to the right place. Just make certain that you hire a flight booking app development company that can assist you in earning the best rewards.
With the current market trends, online ticket booking apps offer a good opportunity for business growth. Furthermore, it provides an easy platform for anyone to gain access to a simple online flight booking facility. The total cost of app development is determined by the number of high-quality features included in the app. It also includes the functionality of both the admin and customer panels.