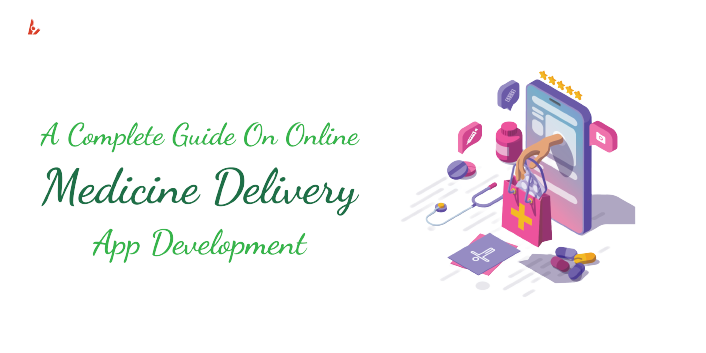 Introduction to online medicine delivery app
An online pharmacy, which encompasses both legitimate and illicit pharmacies, is an internet-based vendor that offers pharmaceuticals. The term "online pharmacies" encompasses independent Internet-only sites, online branches of "brick-and-mortar" pharmacies, and sites that represent pharmacy partnerships. E-commerce, particularly online purchasing, has exploded in recent years, and this includes the sale of both prescription and nonprescription pharmaceuticals. For more than two decades, the concept of online pharmacies and online drug sales has been popular around the world. In 2008, an estimated 2986 internet pharmacies were operating throughout the world, with the number of online pharmacies increasing every year.
Why are online medicine apps popular?
Consumers benefit from expanded access, lower transaction and product costs, convenience, and more privacy that online pharmacies provide. People with restricted mobility and those living in distant places can use them. These include media alerts (tailored medicine reminders), discounts, quick delivery to your doorway, and prescription confirmation by qualified pharmacists. These websites also provide information about replacements and side effects. Consumers believe (maybe correctly) that drugs obtained through internet pharmacies are comparable to those obtained from "brick-and-mortar" pharmacies.
Benefits of online medicine apps
Different shops, as well as pharmacies, have begun to recognize the benefits of having an app for their company. Customers who utilize chat and email capabilities do not distinguish between digital and face-to-face interactions with pharmacists. Pharmacy performance is one of the important indicators for customer loyalty and retention, as it should be in any retail firm. It increases by a factor of ten when customers can conveniently pick up or have their prescribed medications delivered.
During the Covid-19, online drug delivery apps were extremely useful because medicine accessibility was critical. People have found it difficult to visit pharma shops to obtain drugs as a result of the Covid-19 lockdowns and limitations on going out, and there has also been a decrease in the supply of medicines as people stockpiled medicines, masks, and sanitizers. People gradually began to gravitate to these online pharmaceutical delivery apps, where they could check the availability of medications with only a few clicks and place orders online with ease. Furthermore, ordering online was their greatest option because it allowed them to acquire medication without having to leave their house. This quickly became the norm.Here are some more benefits for you to consider having an online pharmacy app
High-level Assistance-Customers receive drug reference materials, pharmaceutical consultations, and medicine trackers as part of their high-level patient assistance.
Better Chronic Illness Management - Patients with chronic illnesses can follow their medications online and order up to 90 days' worth of supplies instead of the standard 30 days in the physical store.
Customer Loyalty - Your app makes interactions easier and fosters customer loyalty by providing reminders, discounts, and promotional offers online in an unobtrusive manner.
Convenience and Privacy - Consumers value time and money savings. Aside from that, some clients are uneasy about purchasing their medications in public. Consumers are more confident and grateful for pharmaceutical applications since their privacy is respected.
Getting More Customers - If you have a pharmacy app, you can use some of the top app marketing services to help you get more customers. Additionally, having an internet presence expands your customer reach, resulting in more profitable business.
Current trends in the Online Medicine Delivery Industry
Collaboration method
Users typically do not want to deal with the hassle of paying delivery fees or a subscription fee for a medicine delivery service. They frequently want the best deal on the drugs they purchase, so forming a partnership may be the best business model for your app.
This model is straightforward to understand. Your app collaborates with several physical pharmacies. Then a customer places an order and pays for their medication with a specific pharmacy (via the app or in-person), the store splits the revenue with the delivery service company (based on whatever terms you establish).
Subscription Model
Some delivery apps use a subscription model to generate revenue, but it's not as common in this niche. To use your online delivery services app, users must subscribe and pay a monthly fee. While charging a one-time fee to use an app may not be suitable for all users, offering discounts for users who commit to a 6- or 12-month subscription may be more appealing.
Considerate Delivery Fees
As a way of monetizing their app, delivery apps frequently charge delivery fees. These fees may be calculated as a percentage of the order total or as a flat fee. Delivery fees are more successful for some delivery apps than charging users a subscription fee because users only have to pay a fee when they use the service. However, if your user base is made up of repeat customers who require consistent deliveries (as may be the case with medicine delivery), a subscription model may be more appropriate.
Publicity
Publicity is always in the trends market. Almost any popular mobile app can earn a lot of money through advertising, and the online medicine delivery market is no exception. Instead of having ads from random businesses splattered across your app, you can host ads for your app partners or keep their store at the top of search results for a set period to earn money.
Trends in the Pharmaceutical Industry
Artificial Intelligence.
Artificial intelligence (AI) and machine learning are being used to speed up drug research and development. Startups are experimenting with the use of these technologies to address numerous difficulties in the pharmaceutical sector, such as manufacturing process automation and optimization, as well as developing successful marketing and post-launch tactics. Patient identification is critical in the medication discovery and development process, especially when it comes to clinical trials. AI makes the process of identifying eligibility criteria and including patients easier, as well as making the cohort identification process faster and less expensive.
Big Data and Analytics 
To correctly analyze and derive value from the huge volumes of data available during the drug research and development process, high-performance technologies are required. Pharmaceutical businesses are attempting to offer up their sensitive data to third parties, making data management a significant emphasis area. Pharmaceutical firms' historical and real-time data are becoming significant assets for predictive, diagnostic, prescriptive, and descriptive analytics thanks to advances in analytical tools.
Adaptable production
Due to shifting market dynamics, the pharmaceutical sector is experimenting with innovative manufacturing methods, such as small batches for precision medicine. Single-use technology is gaining popularity because it lowers downtime and boosts productivity by removing tedious tasks like cleaning and validation between different stages of manufacturing. The growing focus on biopharmaceuticals has led to the development of new types of bioreactor systems and continuous manufacturing techniques. Continuous manufacturing reduces energy consumption, increases productivity, and reduces waste, in addition to reducing downtime.
Market Segmentation and Buyer Personas
In 2020, according to Business Insider, the e-pharmacy market was worth around USD 60,430.14 million, and by 2026, it is predicted to be worth USD 136,160.27 million, with a CAGR of 13.84 percent over the forecast period 
Throughout the COVID-19 pandemic, the market is likely to rise dramatically. Because of the lockdown and travel restrictions, as well as the fear of contracting the SARS-CoV2 virus, people have become more reliant on Internet pharmacies to obtain both over-the-counter and prescription medication. In addition, virtual-based teleconsultations are replacing in-person medical appointments, resulting in the generation of digital prescriptions.
Throughout the COVID-19 pandemic, the market is likely to rise dramatically. Because of the lockdown and travel restrictions, as well as the fear of contracting the SARS-CoV2 virus, people have become more reliant on Internet pharmacies to obtain both over-the-counter and prescription medication. In addition, virtual-based teleconsultations are replacing in-person medical appointments, resulting in the generation of digital prescriptions.
Scope of Online Medicine Market
An e-pharmacy is an online pharmacy that operates over the internet and delivers drugs to customers via mail or shipping firms. The e-pharmacy bypasses the long chain of wholesalers and delivers medications straight to the end-user at a lower cost. The e-pharmacy market is divided into two categories: prescription pharmaceuticals and over-the-counter (OTC) medications (skincare, dental, cold and flu, vitamins, weight loss, and other product types).
The e-pharmacy business is competitive, with a few major competitors now ruling the roost. CVS Health Corporation, Albertsons Companies Inc., ALTO, and Axelia Solutions (Pharmeasy) are just a few of the market's major participants. To capture a larger proportion of the e-pharmacy business, these companies are employing a variety of marketing methods and focused on growing their geographic presence, particularly in developing regions with attractive potential.
Business Model
The online pharmaceutical delivery startup business model can be divided into two categories, the first of which is how they work and the second of which is how they make money.
The First Model
The first type starts with a pharmacy that has a large number of drugs on hand. Consumers submit prescriptions for the drugs they want, and internet sellers check the availability of the orders they've received. Finally, once the customers have made their payment, the internet vendors dispatch the product.
Second Model
The second one works a little differently because the pharmacy does not carry the medications and instead forms a partnership with any local brick-and-mortar pharmacies. When a customer places an order online, the online pharmacy businesses check the availability of the requested medications with the pharmacy closest to the customer's shipping address. When a consumer makes a payment, the online retailer asks the delivery partner to physically deliver the drug to the client's address, and the revenue is split according to the terms and conditions agreed upon.
Developing a successful online medicine delivery application
Discovery Phase - It is critical to research your competition and understand what they lack to gain an advantage. Aside from that, your target market's preferences are specified for a more effective marketing strategy.
Gathering Requirements — This stage entails in-depth discussions and meetings with experts from the technical and design divisions. Its purpose is to offer a detailed specification of your pharmacy application's functional and non-functional needs.
Feature List - Make sure the development backlog is full of features that are relevant to your application and suit the needs of your users.
Prototyping — an interactive app prototype demonstrates how product features are defined from the user's perspective.
UI/UX Design — Your pharmacy app should be designed with a user-friendly and functional interface that follows the latest UI/UX trends in the market.
Features of a Medicine Delivery App
Features in the pharmacy panel
Login/Register-Customers can simply register their pharmacy services on the drug delivery app through an easy-to-use interface.
Interface Dedicated to Customers-Pharmacists can maintain and create future orders with the help of a user-friendly interface.
Notifications for Pharmacy Orders — Users can receive notifications for pharmacy orders they have placed.
Digital Prescriptions - The online medicine app makes it simple to check prescriptions that clients have supplied digitally.
Receive Payments - Stores can receive payments immediately through the app and track their details.
Analytics - The analytics tool allows you to track the progress of your business over time.
Push Notifications - To attract customers, pharmacies can use push notifications to interact and engage with them.
Manage Store Details — Easily add, change, and delete store details to provide customers with the most up-to-date information.
Features in the Customer Panel
Registration or Login-Users can register for the app and log in using their email address, phone number, and password.
Maintain Profile– Users can update their information in the profile panel of the online medicine delivery program.
Add Prescription– In the profile panel, customers may easily add prescriptions as advised by their doctor. S
Search Medicines-Customers can search for individual medicines by providing the medication's name along with any relevant information.
Order Medicine - After entering their information, users can add the necessary drugs to their cart and complete the order.
Pay for Orders– Customers can use in-app payment options to pay for their orders quickly and easily.
Order History-Customers can also get full details about their previous orders in their order history
Avail Offers and Discounts– Users may take advantage of the finest deals and discounts, and they can be among the first to learn about this function.
Features in the Admin Panel
Dashboard-In the pane, the admin validates and views all of the requests made by clients and store owners.
Payment Gateway– The program supports multiple payment gateways, allowing for simple payment processing and expanding the company base.
Real-Time Analytics– Admin can access data in a variety of ways, making real-time analytics possible.
Tracking System– The admin, as well as the customers, may track the orders placed by customers at various stores in real-time.
Navigation– Use GPS-enabled navigation systems to find the optimal delivery routes and assure on-time delivery.
Track Earnings– Admin should keep track of daily, weekly, and monthly increases as well as check earnings at the end of the day.
Customer Contact– The Admin updates customers on arrivals via phone calls.
Users receive support 24 hours a day, seven days a week in the event of an emergency or to handle any concerns or questions.
Conclusion
Customers want their medicines to be ordered online and delivered without fail, as they do for other requirements such as food, groceries, and clothing. The pharmacy sector is no exception, thus customers want their medications to be ordered online and delivered without fail.
The online drug delivery smartphone application provides information to its users about nearby diagnostic labs and pharmacies. The app connects users with stores or labs directly and offers competitive prices to ensure that they get the most out of their purchases. It's a significant reduction in pain. It also stores the user's medical information.
The ever-increasing demand for pharmaceuticals and healthcare products makes it difficult for offline stores to keep up with the changing demographics. Another important aspect in the continued expansion of online medicine delivery applications is the ease of purchasing from the comfort of one's own home, which, along with the reduced price, eliminates the need for consumers to physically visit stores. Online retailers, on the other hand, can meet a wide range of worldwide needs. This is why many medical businesses and organizations are aiming to go online, i.e., concentrating on the development of an online medicine delivery company. Customers increasingly prefer to buy medication online because it saves them time and money.
You'll need to create your pharmacy app to help you accomplish your aim of customer happiness. With the help of our team's professionals, you can get detailed project advice and have any type of online pharmacy app developed.